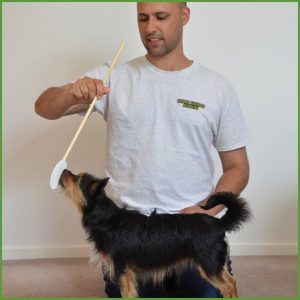 I remember doing one of those computer tests in high school where you answer a bunch of questions and it's meant to tell you what occupation you should do. I actually got told to be a builder, which didn't sound very exciting. The friend sitting next to me came out with  'zoo-keeper' – now that sounded much more fun. That's when I decided I was going to work with animals.
After school, I attended University and acquired a Bachelor of Science degree in Biology and then I started volunteering wherever I could and meeting as many people as possible to try and get started in a career in zoology.
It was a wedge tail eagle in Cairns, Australia, that gave me my first taste of training success and changed my life forever. Training Bob the wedge tail eagle gave me the opportunity to learn and practically apply positive reinforcement animal training.
Since this time, I've worked in many different zoos, across numerous countries in lots of different teams and with many different species. Working across different organizations I was consistently presented with opportunities to develop new animal training programs based on my experience.
After doing this for a decade I saw an opportunity to take what I was already doing and reach a much bigger audience, helping more trainers and animals. Animal Training Academy was born mid-2015.